Just in time for Father's Day, here's a book I wrote about a precocious fifteen-year-old who talks her father into taking her on a pilgrimage to the mythical town of "Lake Wobegon," a city brought to life on the radio every Saturday night by humorist, Garrison Keillor. My husband and I actually made this pilgrimage ourselves and we've included our photos of the real places that inspired Garrison Keillor's make-believe town. We even got a chance to meet him when he was coming out of a bookstore!!
This book is told from the point of view of our teenage sleuth, Nancy Keene. In the story, a bachelor farmer from Lake Wobegon goes missing and Nancy and her Dad are hot on the trail.
It's available in both paperback and eBook formats.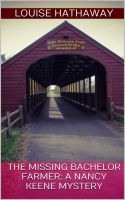 Amazon
Apple
B & N
Smashwords