Travelers in Time Aboard the California Zephyr is a time-travel story about a gr

oup of modern day Amtrak passengers who find themselves suddenly part of a real-life excursion train in the 1860's during the building of the transcontinental railroad. Come along and read how these modern-day characters try to adapt to their new world in post-Civil War Nebraska.
I am so excited about this book being finished and at last published! A year ago, my husband and I booked two tickets for one of the sleepers cars of the famous California Zephyr in order to pretend that we had won Amtrak's Writers in Residency Program contest. Although we did not win the
contest, we considered this trip a "working vacation" and brought along both of our computers in order to be "Writers". Without the distractions of Wi-Fi--that means no internet and no cell phone connections--we went back to basics and wrote, with only the beautiful scenery of the Sierras, the painted desert of Utah, and the canyons of the Rockies as company. This book is the result.
Travelers in Time Aboard the California Zephyr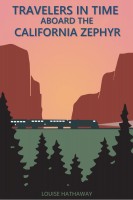 Only $2.99 at most online bookstores.
Paperback available at Amazon